True Length Technology® Single Online TLT fitting Form
Your single online TLT fitting will be based on a True Length Technology math model that is derived from this submission. Please complete the fitting form below and we will contact you by E-mail, with your personal TLT fitting recommendations. Please be sure your email and phone number are correct.
If you know the length and lie of your favorite club, this often helps. Please inform us of any special circumstances that may influence the decisions.
Need to discuss anything?
Text or call – Please state your name in the text 905-439-0358
Land line phone only – no text – 905-263-8510
Toll free to my land line 1-877-848-0116
What Do You Get from This Single Online TLT Fitting?
The single online TLT fitting charts will not be Dan's full clubmakers package (which are available at our Clubmakers Registry), but rather a  summarized True Length Technology® version in PDF form relative to your fit. We will supply the calculated lengths for your driver, fairway woods, hybrids, irons, and putter. All the target lie angles for your irons will also be specified.
We accept no responsibility or liability for the assembly or accuracy of your set.
There are many factors in determining the best fit, so the more information we have, the better your chance at receiving an optimal fitting. This single online TLT fitting will allow you the opportunity to purchase a single PDF True Length Technology® Series Length and Lie Chart. Then you can take this information to your local clubmaker to have your existing set altered or a new set built.
Wrist to floor – please have someone measure for you so you stay upright – shoes on, looking forward please.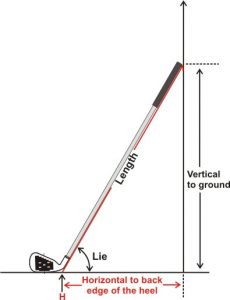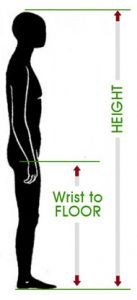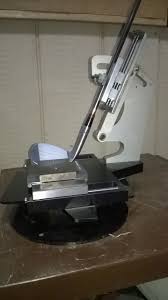 Method of payment
1 – use the Pay Pal 'Buy Now' button below which will accept credit cards
2 – e-transfer money ($69) to my bank account – danscustomgolfshop@gmail.com
3 – PayPal me – direct to my Pay Pal