How would a set of custom fit golf clubs help my game?
The term 'Custom fit golf clubs' has become a very hot topic as of late. Every time you watch the PGA Tour there will be a commercial covering custom fit golf clubs. Many Custom fit golf shops will focus on shaft selection with no consideration give to length and lie. Golfers come in all sizes, and with a True Length Technology fitting at Dan's Custom Golf Shop, the length and lie angle will be a priority. The goal: Keeping you athletic for every club and formulate the best combination of head choice, length, lie, flex and grip size.
Not all custom fitting golf clubs are the same
Some golf shops are being left behind while other golf shops are leading the way.  By promoting advanced golf club fitting techniques and 'Out of the Box' concepts like True Length Technology® Dan's Custom Golf Shop will change your game. Golf clubs are primarily purchased off the shelf with a one size fits all theme. This has to change as there are so many factors that affect how you stand at address.
We have all seen tall golfers being force to play from a crouched position. Just as often we have witnessed that shorter players are excessively choking down on their clubs. The alternative is having the toe of the club sit extremely upright or flat at address. This will cause directional control issues. Many players struggle with these directional issues, which comes from the length and lie of the golf club not being correct. True Length Technology® Custom fit golf clubs will not only correct your address, but will improve your swing plane. The fitting and build will get you standing athletic and will keep you there.
A properly fit golf club is directly related to ball speed and direction. A correct address position will help promote a pure shot, with a proper spin and exceptional directional control .
Custom fit golf clubs – Why True Length Technology®?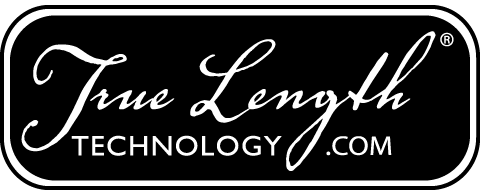 Tom Wishon, a world renowned custom golf club designer, mentor and outspoken statesman for the need of Custom Fit Golf Clubs, has endorsed the True Length Technology® Fitting System on several occasions.
'After hearing Dan's explanations for his True Length Technology™ length fitting methodology, I had to admit his work definitely has merit and should be considered by all Clubmakers'.
Advantages of a True Length Technology® fitting
one consistent athletic address position regardless of your size
proper length and lie angles
no more crouching for tall players or gripping down for small players
one consistent body position and swing plane
improved directional control and on center hits
a perfect fit regardless of your size.
True Length Technology® is leaps and bounds ahead of all other fitting techniques where the builder attempts to correct the set after the build. Correcting golf clubs is what is done in a retrofit program, not for a new  build.
Once the proper True Length Technology® Series has been determined, the Excel program takes over. By utilizing a 100% math modeled excel program, the correlated length and lie angles are predetermined. The design intent is to keep every golfer standing athletic.
If you are a Custom Golf Club maker of any level please see the Club Makers Registry page to Register for the Excel charts. This will instantly make you a better clubmaker and fitter by following the True Length Technology fitting techniques. Clubmaker's all over the world now follow the True Length Technology® procedures and build techniques. A number of these TLT builders are listed on the Golf Digest top 100 club maker's list.
Custom fit golf club shafts – Why True Frequency Technology®?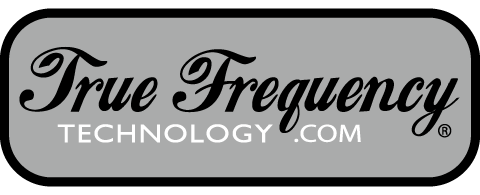 The industry standard for the frequency of a golf shaft has been simple butt frequency. This means that the flex of the entire shaft is determined by the last 5 inches of any given shaft. For a driver this is around 11% of the entire shaft length and for an iron perhaps 13%. Not very impressive due to the lack of data for the mid and tip section of the shaft.
True Frequency Technology® was developed as an excel program for shaft profiling. This will allow the analysis of 50 – 75% of the shaft length. Now the true differences that exist over the length of a golf shaft can be determined. At first glance, any 2 shafts may seem identical in butt frequency but the reality is the tip section may be completely different, randomly altering the tip flex.
The knowledge gained here allows the clubmaker to have a consistent and correct profile for any given player. Softer tip sections translate into a higher launch, where stiffer tip sections will launch lower. With the ability to sort 13 shafts at a time, and entire set can be finely tuned and sorted to an overall frequency rather than just the butt frequency.
Please see the Club Makers Registry page to sign up for the Excel charts.
---
Single length golf clubs – The latest form of custom fit golf clubs

Single length (every iron is near an 8 or 9 iron length) promotes a consistent swing and feel for each club in the set. Same MOI, same total weight, same head weight, same balance point…. The chance for improved shot consistency is there
Identical length & lie allows the golfer the opportunity for a consistent stance, posture, and swing plane, which  will lead to improved shot consistency
All Single Length Irons will be fit to the True Length Technology® math model. Single length players still have a need for Custom Fitting even though the clubs are all the same length and lie. Stature still plays a big part in getting the right mathematical combination of length and lie
Custom fit golf clubs – Fitting within the TLT Fitting Studio
A full line of left and right handed 'mini sets' are used as TLT fitting clubs. With 16 mini sets in both left and right, you can be assured that there is a set that will fit you perfectly. The Fitting Studio allows every size of golfer, from the tallest gentleman to the most petite woman (and now children) to be fit properly. There are 16 adult charts and now an additional 10 charts for children.
Each of the 16 mini set are comprised of a:
4 iron @ 58* lie
7 iron @ 61* lie
pitching wedge @ 64* lie
driver for length and lie verification
putter for length and lie verification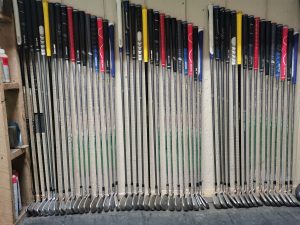 True Length Technology® custom fitting rack
Both left and right hand mini sets are available
Each TLT Fitting rack consists of a:
Driver -> Series 0 (petite) – Series 15 (giant of a man)
4 iron @ 58 degrees of lie -> Series 0 – Series 15
7 iron @ 61 degrees of lie -> Series 0 – Series 15 plus 10 children's
PW at 64 degrees of lie     -> Series 0 – Series 15
Putters    -> Series 0 – Series 15
Both Left and Right handed mini sets – 4, 7, PW
A set of 9 irons are available to test flex LL to XX
A set of 5 drivers to test flex LL to X
Graphite vs steel for total weight comparison
Different grip sizes to test
Different grip materials to test

Dan's Custom Golf Shop Fitting Studio

All demo clubs are built to the True Length Technology® standards
Wrist to floor measurements, height and body size, are all used to help formulate the final math model Series for length and lie
A full interview to determine your likes and dislikes about your current set, strong points, weak points, favorite club…
Are you dealing with any ailments or restrictions that may influence the decision on shaft material or grip size?