Golf club Designs featured at Dan's Custom Golf Shop
______________________________________________________________________________
Dan's Custom Golf Shop has carefully chosen a few top component golf club designs based on quality and performance. These original quality golf club designs are component companies, like the KRANK, Alpha and Tom Wishon designs. KRANK is the current world long drive championship design, and all clubs will be built to my Award Winning True Length Technology® math model.
Why? To ensure that the fit is perfect, regardless of your size. True Length Technology will get you standing athletic and will optimize your performance. 
Drivers – It's KRANK all the way 

3 KRANK driver designs
F11 PRO – conforming under the USGA rules of golf 
F11 X Hi COR – casual play – under 100 mph or 250 yards total with your existing driver
F11 XX Hi COR – casual play – under 80 mph or 200 yards total with your existing driver
KRANK F11 PRO Driver
Conforming – for competitive play
Currently dominating the Long Drive Championships, team KRANK has more wins than any other driver.
If you know anything about KRANK drivers, you've probably wondered if their claims of being the longest hitting drivers in the world are really true? What can they possibly know that the major golf club companies don't know? How do they dominate in distance hitting?
It's just that KRANK's competitors don't and won't build handmade 100% forged cupped faced drivers. It takes too much time, effort and money to produce quality heads at the volume required. KRANK's competitors build cast soft metal drivers in mass production for mass distribution.
The performance isn't even close! The New F11 PRO driver is the best driver KRANK has ever made. They have perfected everything from the combination of super hardened beta titanium metals to their tri-sleeve adapter.
With exceptional balance this driver head is the most accurate hitting of any driver in the world. Perfection is a journey and after 17 years in custom golf club manufacturing, this driver is as close to perfection as KRANK has ever came.
If you are really wanting to improve your game, your fun on the course and desire to hit the ball further down the fairway, then it's time for a KRANK.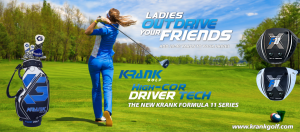 KRANK F11 X Hi COR
KRANK F11 XX Super Hi COR Driver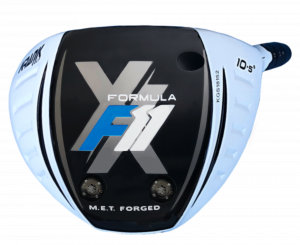 both F11 X and XX are Hi COR and are designed for 'Casual play'
F11 X Hi COR – designed for less than 100 mph swing speeds with typically less than 250 yards carry distance
F11 XX Super Hi COR – designed for less than 80 mph swing speeds with typically less than 200 yards carry distance
extremely forgiving
3 way adjustable sleeve 
available in lofts of 9, 10.5, 12 and 14*
The Hi COR design is for those looking at the pure enjoyment of the game. It's for those players who would like the potential to reclaim or simply add distance to their game.
KRANK F11 X and XX Hi COR drivers will add 20-40 yards to your drive.
KRANK push's every possible advantage to gain performance. Enjoy the next KRANK revolution and hit the ball
KRANK IT UP!!!
HIGHEST BALL SPEEDS,
HIGHEST TRAMPOLINE EFFECT
7-8% Higher Ball Speed = 10-12% Distance Gain!
LONGER DISTANCE
20-40 Yards in Increased Driving Distance.
MORE ACCURACY
The F11 X and XX driver has a lighter, more flexible face. The 100% forged  – cupped faced design, increases the size of the sweet spot, leading to greater forgiveness and increasing the ball speed immediately after impact.
MORE DURABILITY
The F11 X and XX drivers forged titanium faces are over 4 times harder than cast driver faces, allowing KRANK to micro CNC mill the face thinner. Resulting in faster ball speeds, better spin control and anti-face flatting durability.
Driver Adjustment Specifications 
Face angle – Neutral (N) and Draw (D) bias.
Lie angles – LN (58 degrees) and L+ (59 degrees)
Loft angle – 4 choices
S – Standard – the stated loft
-1 degree from Neutral/Standard
+1 degree from Neutral/Standard
+2 degrees from Neutral/Standard
KRANK Fairway woods
KRANK Formula X Extreme 3, 5 and 7 woods are available (RH only)
KRANK Hybrid irons
KRANK Formula X Extreme 2, 3, 4 & 5 hybrids are available (RH only)
All fairway and hybrid heads conform to USGA STANDARDS
______________________________________________________________________________
Looking to compete in Long Drive contest?
I can help there as well.
KRANK Long Drive straight glue in drivers
——————————————————————————————————————-

Dr. Jim Yeh Designs
Dan's Custom Golf Shop – Featured Irons
Dan's Custom Golf Shop has carefully chosen the Alpha brand as their feature iron heads. These are premium iron heads that will not disappoint in design nor performance.
Alpha Golf was founded in 2000 by Dr. Jim Yeh after spending decades in innovative physics research and design for the aerospace industry.
His original pursuit for high-performance golf equipment has garnered him to be one of the true greats in club design today.  Touted as "the Doc" by many of his associates and partners, Dr. Yeh continues to push for innovation in titanium shaping, manufacturing processes, and effective club fitting procedures.
______________________________________________________________________________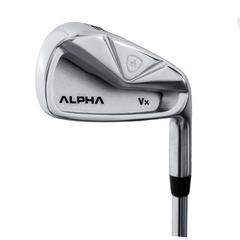 Alpha Vx irons – RH only
PLAYER PROFILE: All levels.
2-piece construction with thin maraging steel face
High Smash Factor for increased ball speed
304 Stainless Steel body frame (bendable up to 2 degrees for loft/lie)
Cavity back structure lowers COG for high forgiveness
Thin top-line for clean and tour preferred set up
RH available in 4,5,6,7,8,9,P only
______________________________________________________________________________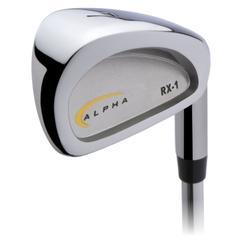 Alpha Rx 1 irons – Both RH and LH available
The RX-1 benefits from a super deep cavity back, wider sole, and slightly oversized face.  The result is an iron that encompasses true forgiveness.  Easy to hit, the RX-1 has a super high MOI that makes each shot amazingly straight you'll feel like a pro.  
Player Profile: High to Low handicappers
Construction
431 Stainless Steel
Chrome-plated satin finish
.370 hosel diameter
Deep cavity back design
RH available in 3, 4, 5, 6, 7, 8, 9, P, G, S, L
LH available in 3, 4, 5, 6, 7, 8, 9, P, S
______________________________________________________________________________
ALPHA Response – RH only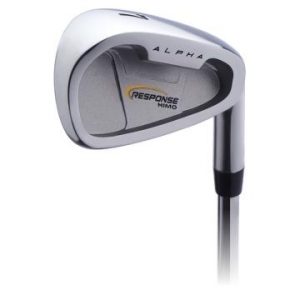 The ALPHA Response iron head is great for those struggling with a slice.  It's also a naturally forgiving iron that can improve any game.
The ALPHA Response design helps to square the head at impact so you don't end up with an open club face that can miss align the trajectory.  
The deep cavity and wider sole makes the Response irons the ultimate game-improvement go-to club for all levels.
Player Profile: Mid to Low handicappers
Construction
304 Soft Stainless Steel
Chrome-plated satin finish
.370 hosel diameter
Deep cavity back
CNC-milled face
Offset face design
RH available in 4, 5, 6, 7, 8, 9, P, G, S
——————————————————————————————————————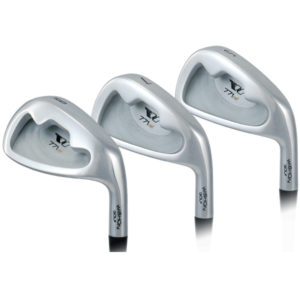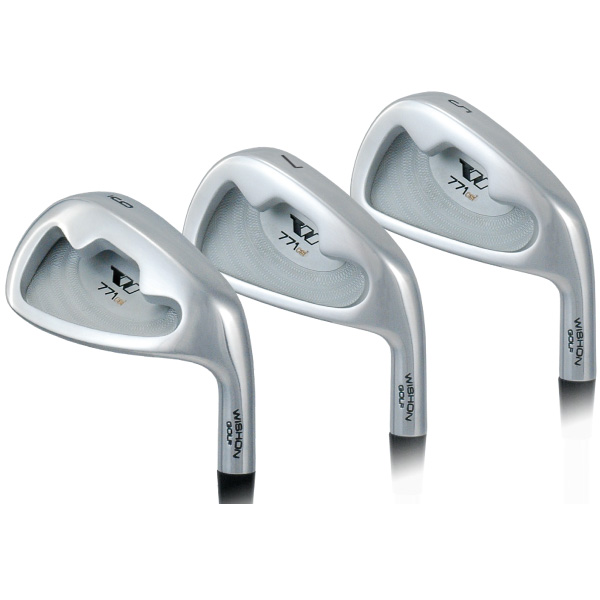 Tom Wishon Designs
Tom Wishon Golf Technology is the leading name in component clubmaking. After more than 4 decades in the clubmaking industry, Tom Wishon has formed his own company to offer professional Clubmakers the very finest quality, innovation, and performance in original club head designs.
Tom has authored many books and literally hundreds of magazine articles on clubmaking and club fitting technology in his career. He has long been recognized by the clubmaking industry as the most knowledgeable source for truthful and up-to-date clubmaking and club fitting technical information in the field.
Tom Wishon designs have won millions of dollars on the PGA Tour, and he has been a member of the Golf Digest magazine Technical Advisory Panel for over 10 years. More than 40 different golf equipment design 'firsts' can be credited to Tom Wishon. As further verification of his skills, Tom also serves as a technical adviser for the PGA™ website, where he writes a monthly column in the Improve Your Game section.
Dan's Custom Golf Shop will be carrying Tom's Sterling Single Length Design irons, where every club is the same length and lie (similar to the length of you 8 or 9 iron). 
Tom Wishon
Sterling Single Length iron (premium) 
Right & Left hand available
A unique golf club design built to one length for all irons. This will allow a perfect match of all elements of the swing for shot consistency and feel – for each club in the set. Ensuring the same MOI, same total weight, same head weight, same balance point and will offer the chance for improved shot consistency.
Identical length and lie allow the golfer to use the same stance, same posture, same swing plane for improved iron to iron consistency.
The Sterling's come in a Hi COR 4, 5, 6, and 7 irons, which offer proper distance for the lower lofted clubs at the shorter club length. Other single length sets may lose distance with the low loft clubs. 

Call and book your appointment at Dan's Custom Golf Shop today.
______________________________________________________________________________
---
ACCRA Certified – Premium golf shafts
Accra golf shafts are my premium golf shaft line, for those players looking for a high quality build with high quality shafts. Available for every club, drivers, fairways, hybrids, irons and putters. Every shaft will go through my True Frequency Technology® shaft sort program bringing the consistency to it's highest level.
I am certified through ACCRAU, a place for the world's best professional clubfitters to gain a greater understanding of the entire line of ACCRA Premium Golf Shafts. All ACCRA clubfitters and builders must first complete their ACCRAU program to be considered certified clubfitters.
ACCRA trusts only the world's best to fit their shafts, and Dan Connelly of Dan's Custom Golf Shop has already proven himself to be a leader in this industry. ACCRAU is an educational tool to improve awareness for their great product line and philosophies.

Custom colors are available but do take a couple of weeks to process.
---
Economical builds
Dan's Custom Golf Shop has access to many other brands of shafts, many of which are also premium level. I do carry shafts for those looking to keep a target budget in line and still have quality. Many golf shafts fit this criteria and can be built with your budget in mind. Still built to high standards with considerations for total weight, flex and of course – a proper fitting.
Please consider booking an appointment for all you golf club needs.