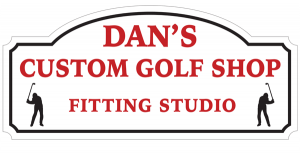 Custom Fit Golf Clubs
Why should every golfer be fit to Custom Fit Golf Clubs? The simple answer is that we are all different sizes and shapes with different levels of athleticism. We have different strength levels, different athleticism and different body structures. Swing tempo, transition and release may be quite different from player to player.
Individuals may require different lengths, lie angles, overall weight, and even grip size and flex. Even if 2 players are similar in build, their golf club needs may differ significantly. Getting every player into their strongest athletic address position id the focus of every True Length Technology build.
True Length Technology
So without going into all the flaws that exist within a typical boxed set (and there are many) we will focus on the benefits of Custom Fit Golf Clubs.
My Professional Golf Club Fitting System, True Length Technology, focuses on the individual attributes of the individual player. True Length Technology has been Awarded 'Best New Fitting Idea' by The Association of Golf Clubfitting Professionals (AGCP).
Fitting to the math model is the most accurate way to establish a consistent athletic address. Once the fit has been determined, the build is mathematically determined. Every club in your bag will ensure a consistent athletic address, promoting more on center hits and improved accuracy.
True Length Technology Fitting System
The True Length Technology Fitting rack has 16 adult mini sets, consisting of:
4 irons at 58* of lie
7 irons at 61* of lie
PW's at 64* of lie
Each mini set is 0.4″ longer than the next mini set. These length variations covers near 7″ of total length separation.  A TLT Series 0 is for the petite, and a TLT Series 16 is for a giant of a man. This professionally assembled Fitting rack will far exceed other fitting racks, which often consist of a few 7 irons built to standard, + 1″ and – 1″. With True Length Technology you get to swing a long (4), mid (7) and short iron (PW) that actually fits you. Why?  To absolutely build confidence for you and confirm that the fit is exactly that – a perfect fit.
Tall Players
After many years of fitting golf clubs, I have seen my share of body sizes and heights. The tallest player I have fit was 6'8″. One of my Registered True Length Technology Fitter's has worked with a gentleman who towers at 7′. These players had tried extended length golf clubs as well as very upright golf clubs. These attempts failed miserably.
So with my tall player, we focused on assembling the set with medium weight graphite shafts, and an extra stiff shaft. As the club gets longer, the flex gets weaker and the head feels heavier. These big strong men would overpower anything less in flex, so the raw shaft has to be extra stiff. Strong players don't want these extra long golf clubs to feel loose whatsoever.
Most fitter's approach the fit of a tall man with very upright lie angles and only slightly longer lengths. The resultant ball position ends up too close to their feet, and a comfortable athletic address position cannot be found. True Length Technology will allow a very neutral swing plane. Traditionally the tall player's swing plane ends up being far too upright and the player feels crowded. The ball is quite close to the players feet. The True Length Technology math model still allows the build to have a slightly upright lie angle, but not to the 5 or 6 degrees that other fitter's use. The math model looks after the lengths and lie angles of all the other clubs.
Yes the added length does bring the total weight up, but this size of man simply finds the few extra grams to mean nothing. Now I have these players standing in a very athletic address position, for every club. Big guys deserve to have golf clubs that fit them. The days of having to compensate by excessive squatting or bending are gone. Thanks to the True Length Technology – math model.
Small players
For the smaller stature the math model can correct what they consider to be too long and too upright. We have all seen these players with the toe of their golf clubs sitting extremely upright at address.
First step – determine what is the correct length and lie for the individual by going through the True Length Technology fitting. The math model will once again take over, spelling out all lengths and lies for their athletic build. These player have been gripping down or standing too upright for too long. The toe of the golf club needs to be sitting correctly relative to ground. The player also deserves to stand in their strongest athletic address position.
The shorter player will often end up with flatter lies than the taller player, and a reduced length. The math model will keep as much length as possible, without bringing the toe of the club up.
True Length Technology Golf Club Fitter's are now found in 18 countries and perhaps their is one near you. Please look in my 'Find a Club maker near you' folder on my site and discover what True Custom Fit Golf Clubs are really about..