Dan's Custom Golf Shop – About Us 
Designer of the Award Winning True Length Technology® Fitting System
Graduate of the Ralph Maltby Golf Clubmaking Academy – Master level status, clubfitting and professional repair certifications
Advanced / Professional golf clubmaker – The highest level within the Golf Clubmakers Association (GCA)
Class 'A' golf clubmaker with the Professional Clubmakers Society (PCS)
Developer – True Length Technology® – Awarded 'Best New Fitting Idea' by the Association of Golf Clubfitting Professionals (AGCP)
Developer – True Frequency Technology® – shaft profiling system. Profile over 50% of the shaft rather than simple butt frequency
Our commitment to the advancement of golfers is second to none.
Dan's Custom Golf Shop is a family owned business, based out of a small shop at our home in Hampton, Ontario. My wife Marianne keeps the flowers in full bloom and is available to take messages. Our 2 sons Jay and Eric helped build the new addition to the shop, allowing us to now have a 'Fitting Studio.' The Fitting Studio is fully stocked with 16 sets of left and right handed fitting clubs (4 irons at 58* of lie, 7 irons at 61*, and a PW's at 64*). You will now be able to swing a test set that will be used as the fitting model to either correct your existing set or be the model for your new build.
We all are True Length Technology® product testers, which has helped turn a theory into a reality.
True Length Technology® Fitting System
We make every effort to understand, fit, and craft every club to the True Length Technology® math model that best suits your game. You will find the True Length Technology® math modeled Fitting System a very interesting approach and an enjoyable experience. The results – "every club fits regardless of your size or stature".
The age old statement of "My long irons are too long and my short irons too short" will be a thing of the past.
True Length Technology® is based on a perfect math model for each individual. Through a combination of wrist to floor measurements, adjusted wrist to floor measurements, and the hitting of our TLT test clubs, we have the ability to:
Fine tune your set of clubs to have an identical hand position for every club
Develop a very consistent swing plane
Promote more on center hits
Improve the overall playability of every club
The secret is in the length and lie of your clubs, all relative to your favorite athletic address and consistent hand position. True Length Technology® clubs are not built to the age old standard of ½ inch increments and ½ degree of lie change. The math model proves that the lie angle verses the individual club length cannot be in ½ inch increments. The math modeled length increment is less than the ½ inch standard used throughout the industry.
True Length Technology® – one common address and one common hand position.
If you want to understand how your golf clubs shaft will perform you need to understand the profile of a shaft. This involves collecting data over the entire length of the shafts – not just butt frequency. The True Frequency Technology® Shaft Profiling software will help identify the 3 stages of your golf shaft – butt frequency, mid frequency and tip frequency. True Frequency Technology® will help predict ball flight by identifying the overall shaft profile and performing a sort of all the raw length shafts before assigning each shaft to a particular club head. Improved performance and an improved consistent feel will be the end result, with superior directional control and on center hits.
Graduate of Ralph Maltby's Clubmaking Academy – Master level
Fitting, Assembly and Repair
Professional Clubfitting program
Master's Program
Advanced Shaft Technology program
This is the highest technical accreditation program available in the game today. The program is recognized among the world's most elite golf equipment experts.
Congratulations on Your Master's Status Dan,
Thanks for attending The GolfWorks Master's School. As you know we only select a few highly skilled individuals that qualify for this advanced program. You have proved that our stringent screening process for admittance only produces the very best graduates. You should be very proud of successfully completing a very difficult Master's curriculum and at such a high skill level. Congratulations on making the effort to be at the top of your profession by earning your Master's status.
Ralph Maltby, Founder of The GolfWorks
The GolfWorks is the golf industry's most complete source for golf club components, club making tools and supplies, and technical information. Located in Newark, Ohio, The GolfWorks provides Club makers and other golf equipment professionals with a range of proprietary club head designs from its Ralph Maltby Designs Studio, plus all of the game's most popular brand-name shafts and grips.
The GolfWorks Clubmaking Academy is recognized as the premier golf equipment training facility in the world. 
Ralph Maltby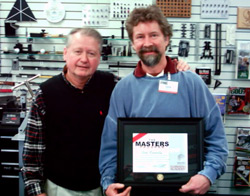 Ralph Maltby is the most prolific writer and designer of golf equipment the game has ever known. He has also helped thousands of golfers enjoy the game more by developing golf equipment that truly enhances their opportunities for success. Dan pictured here with Ralph at Ralph's Ohio home based Fitting Studio after receiving his 'Masters' status – a very proud day. Ralph Maltby has influenced every aspect of modern club making from golf club fitting to his many patented innovations in golf club design to his best selling reference books. Both Tom Wishon and myself, Dan Connelly, have attended the Maltby Club Making Academy.
Tom Wishon is another perfect example of one of today's leading golf equipment designers. Currently his Sterling irons – a Single Length set of golf clubs are one of the hottest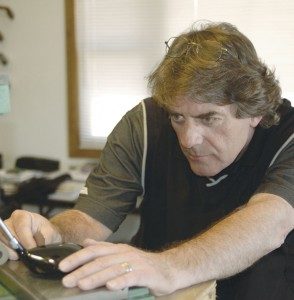 concepts on the planet. Dan's Custom Golf Shop does carry the Sterling line and is available for a custom build. Single Length golf clubs do still need to be fit properly.
Tom has many great design firsts within the golf club head design industry and has had heads on the Golf Digest 'Hot List'. Wishon Golf Technologies is the industry leader in golf club head design innovation. Tom created the first adjustable hosel woods, the first high COR fairway woods, the first high COR hybrids, the first high COR irons, and many other club head design firsts.
Fitting outside the traditional box – the concept of True Length Technology® from clubmaker Dan Connelly
TWGT Note: One of the most difficult things for all of us to do is to consider deviating from various accepted and "traditional" norms that have been a part of clubmaking for a very long time. For example, when TWGT introduced Clubmakers to the concept of MOI Matching golf clubs as a replacement for swingweight matching, the new concept was bucking over 80 years of the golf industry relying only on swingweight as the method of trying to make all clubs in a set offer the same swing feel. While many Clubmakers learned and now embrace MOI Matching as the best way to truly create the same swing feel for each club in the set, tons more are hesitant to even afraid to try MOI matching for fear of deviating from 80+ years of club making tradition.
I first became aware of clubmaker Dan Connelly and his TLT system for length fitting through TWGT's Rob Sines. At the 2007 PCS Show, I had the opportunity to sit down and listen to Dan's concept which flies in the face of literally decades of the golf industry's traditional practice of changing the length of clubs by full inch or half-inch increments. After hearing Dan's explanations for his True Length Technology® length fitting methodology, I had to admit his work definitely has merit and should be considered by all Clubmakers. As a result, I asked Dan to write an article about his TLT system so we could expose Clubmakers to a brand new length fitting methodology that is most definitely worth all clubmakers' consideration.  
Tom Wishon
 Why Choose Dan's Custom Golf Shop?
We understand that you have many choices when purchasing golf equipment. Accordingly, we stand behind every product we sell from our True Length Technology® service to great products from brands like Tom Wishon Designs, Ralph Maltby Designs, John Nakashima Designs, Jeff Sheet's Swing Science designs and the Pinhawk Single Length irons.
Our reputation has been earned through our exceptional one-on-one customer service and evaluation, attention to detail, and maintaining one of the highest standards in the industry. Dan's Custom Golf Shop is well known and respected in the community as well as high acceptance in the golf club makers community. True Length Technology® is currently used in 18 countries by over 200 golf clubmakers. Tom Wishon has endorsed True Length Technology® on several occasions and has stated 'True Length Technology® should be considered by clubmakers everywhere'. If you are golf clubmaker – hobbyist or professional, please see my 'Clubmakers Registry' page and consider buying into the program and being listed on my 'Find a TLT Club maker near you' page.
I am always happy to consult with you personally by phone or email to insure that our custom golf clubs fit you and your game. It's always best to phone ahead and book an appointment as our free time is limited. Please consider visiting my shop when looking to improve your equipment or move into the True Length Technology® math model.
Our commitment to the advancement of golfers is second to none.
Professional Accreditation's, Awards & more
True Length Technology® Awarded – 'Best New Fitting Idea' – by the Association of Golf Clubfitting Professionals (AGCP)
Annual Round Table Sessions in Georgia, USA – December 11, 2007
Dan Connelly – Developer & Owner:
True Length Technology® Fitting and Assembly System
True Frequency Technology® – Raw Shaft Profiling system (over 50% of the raw shaft length), creating a very consistent set of shafts prior to the build.
Clubmaking Accreditation's
2001- Certified by The Ralph Maltby Clubmaking Academy in professional assembly and repair.
2003 – Certified by The Ralph Maltby Clubmaking Academy in professional clubfitting.
2004 – Dan was invited to attend Ralph Maltby's Master's Program in Ohio becoming only the 3rd person in Canada to obtain this status. This is the most elite club making program there is and is only available to individuals who have proven their ability is of the highest regard.
2004- Wrote the Golf Clubmakers Association (GCA) Exam earning both the professional and advanced certifications – the highest available levels for club builders.
2005 – Trademark owner of True Length Technology®, a fitting system that puts every club in the same hand position based on the proper length and lie angle for the individual. Please note that True Length Technology® clubs do vary in length, but not to the traditional ½ inch increment used throughout the industry. I devoted 3 years of research knowing there had to be a better fit than what is currently available. I always felt my long irons were too long and my short irons too short. Please review my True Length Technology® section to help you understand what this system will do for you and your game.
2005 – Became a Certified Rifle Center for Frequency Matching Royal Precision Rifle shafts. Rifle Shafts are now part of the True Temper Family of Golf Shafts.
2007 – Joined the Professional Clubmakers' Society (PCS) in February 2007. I was fortunate to be able to present True Length Technology® at the annual expo to great reviews from my club making peers. Certified 'Class A' status.
2007 – Sponsor of the Association of Golf Clubfitting Professionals (AGCP) to help increase the awareness of a great Club fitting.
2007 – Awarded 'The Best New Fitting Idea' – by the Association of Golf Clubfitting Professionals (AGCP) on December 11 at the annual Round Table Sessions
2008 – Certified 36 Professional Clubmakers at the Association of Golf Clubfitting Professionals (AGCP) Round Table event on November 5, 2008 as Advance TLT Clubmakers.
2009 – Trademark owner and developer of the True Frequency Technology® advanced shaft profiling and sorting system covering over 50% of the shaft lengths – not just butt frequency where the tip section could be a full flex different – shaft to shaft.
2016 – Certified as an ACCRA golf shaft fitter and builder. ACCRA golf shafts are a Canadian company and of exceptional quality with a number of PGA Tour wins.
Metrology Accreditation
Dan spent 20 years employed as a high level Metrologist for General Motors in the Canadian Regional Engineering Centre in Oshawa ON. As a Precision Inspector, Dan operated CAD systems, coordinate measuring machines, and high level inspection tools on a daily basis. All part of holding the J.D. Powers "Best In Class" which has been awarded to General Motors on many occasions. I was proud to be a General Motors employee (now retired) and represent their complete line of quality cars and trucks from the quality side of Engineering.
Dan held the position of chairman (2 years) of the Association of Coordinate Metrology Canada (ACMC) based out of the National Research Council in Ottawa. This is a group of individuals devoted to correct metrology practices at the highest level. Colleagues include university professors, scientists, world renowned physicists and dimensional experts from around the world.
High level CAD technician, trained by both General Motors University (Detroit Mi), and Origin International (Markham ON) 
High level technician running several LK Co-ordinate Measuring Machines, trained in Michigan 
Graduate of Durham College (1980) from the 3 year Mechanical Technology Program.
High accuracy measurements, calculations, and precision metrology are all daily practices to Dan.